John Shordike is a founding faculty member of the Conscious Conflict Seminars.

In this January 25, 2012 interview by Health and Wellness Host
Edrianna Stillwell on VoiceAmerica Radio,
John describes the power and practice of Conscious Conflict.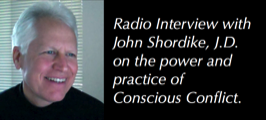 This clip has been edited for length.

Please Note: No legal counseling or services are offered or available through the Conscious Conflict Seminars, which are for your personal educational purposes only. These seminars do not constitute any kind of therapy, treatment, crisis intervention, or psychological or legal advice or counseling, and are not a substitute for such professional care.